This National Park located on chilean Patagonia has 1.814 km² of rocky mountains, glaciers and turquoise lakes. It is a top destination for adventure seekers.
A place we love for its feeling of freedom in the air!
Sometimes called the eighth wonder of the world, Torres del Paine is a place for trekkers and climbers from all around the world. It has a massive mountain where you will be astonished with the diversity of landscapes and fauna.
In Torres del Paine you will be able to trek the well marked paths, horseback ride, kayak, photograph, ice hike, rock climb, and more with the landscape of the massif as a backdrop.
To live the Paine's experience you can take several decisions depending on the time and budget you have for this trip. The most famous trek circuit is the W trek of 5 days. The O circuit of 8 days, is a deeper nature experience also recommended. There is also the possibility of doing day hikes.
  ¿W circuit or O circuit?
The main difference between this trekking circuits are the distance and the amount of trekkers you will find. The O circuit is longer, with a little bit more of 130 kms of walk for about 7 or 9 days, it includes all points of the W plus the other side of the massif. The W circuit is 80 kms long and can be done in 4 days.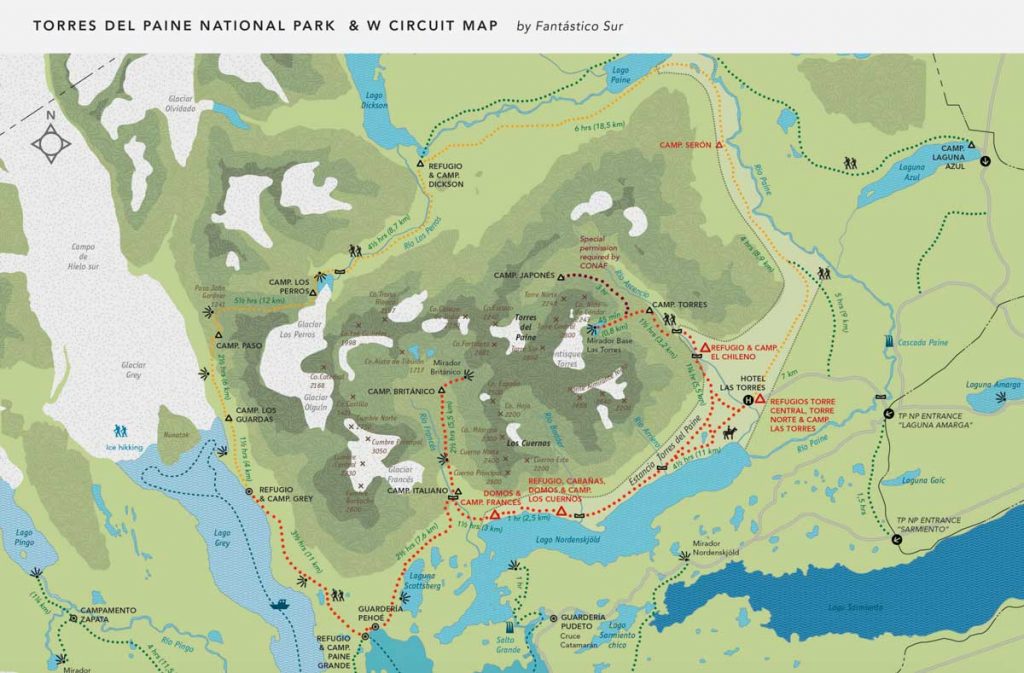 The W – Red path
The O – Yellow + red path
Where to sleep ¿Tent or shelter?
In Torres del Paine you will need a place to stay each night of your trek. The two main options are: Camping on a tent or sleeping in the refugios. As we said at the beginning, this decision depends on the kind of trip you want and your budget.
-Camping:  Sleep in your own tent or rent one at the campsites. We recommend the second option,  otherwise you will have to carry your gear all around the circuit. On this campsites you will be able to cook in the kitchen common areas, and have access to hot showers.
– Refugios or shelters are the other accommodation option in Torres del Paine. They consist in dorm rooms for 4-6 people in which you pay for your bed and other services.
Important: Both ways should be booked many time (months) in advance. For reservations you can visit: Fantástico Sur.
When to go
The chilean summer and fall months are the best ones to enjoy Torres del Paine, from december until april. The high season, when the park is full, is between december and january.
Around april, in fall season, the scenic view gives beautiful light for photographers. In winter from may to november some campsites are closed.
In Torres del Paine weather is very unpredictable, that's why you must carry waterproof and thermal layers in your backpack.
What to expect
A worthy experience of disconnection. You will be walking for hours, which demands physical and mental strength, but it will be highly rewarded with the view of pristine gorgeous sites.
Imagine you will be in front of a massif with glacier water from million years ago, a place so far away for humans that stills untouched. On the paths you will also know people from all over the world, adventure lovers as you!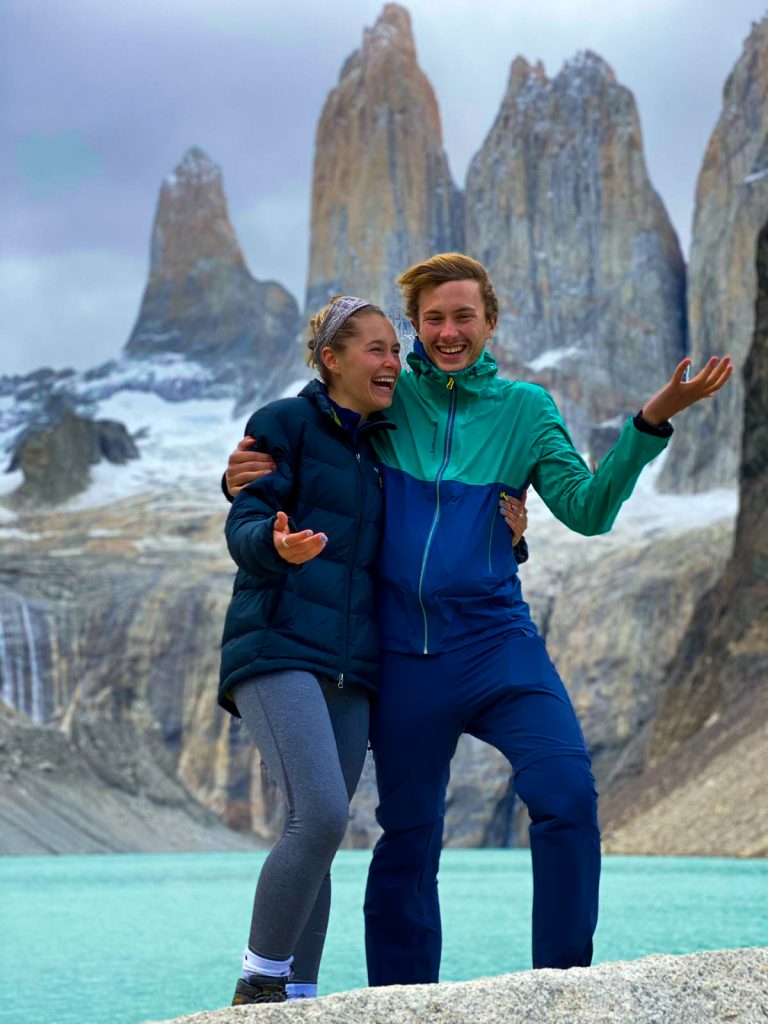 Highlights
Trek to the three Towers lookout

Los Cuernos and other peaks

Hike in pristine landscapes inhabited by wild Patagonian fauna

Trek the French Valley

See hanging glaciers and possible avalanches

Boat trip to Grey Glacier's wall

Ice hike on Grey Glacier or kayaking trip in Grey Lake
How to get there
The closest airport is in Puerto Natales, but the most active one is in Punta Arenas a city with many lodging options. If you are going up from Punta Arenas take route 9 to Puerto Natales where you can find hotels, tour operators, hostels, equipment rentals and groceries.
From Route 40 in Argentina there is a border crossing in Torres del Paine to route 9 in Chile.
Later on we will tell you more information of how to prepare yourself for this expedition, keep in touch!